Lately, I find people getting caught up in big issues they have little chance of resolving, such as reversing climate change, ending wars, or solving world hunger. They often dwell on how unsolvable the situations are and end up frustrated and angry.
When the immensity of what needs to be done is overwhelming, think in small steps. For example, a glass jewelry designer and teacher wanted to do something to help the people in the Ukraine. She decided to create pins, pendants, and earrings that incorporated the blue and yellow colors of the Ukrainian flag and sell the jewelry to raise money for Ukrainian refugees. She hasn't succeeded in ending the war, but she is taking action to help those who are enduring it.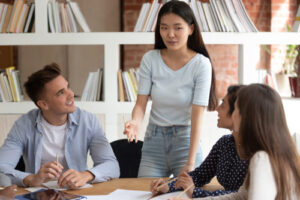 Another woman who is concerned about the environment realized that a great deal of plastic from cleaning products ends up in landfills because the containers aren't recyclable. She worked with two scientists to create concentrated cleaning powders that can be mixed with water in reusable containers. Not only are the products effective, but she has developed a thriving company while helping the planet.
Some organizations have chosen not to hold annual parties and instead donate the money budgeted for them to causes selected by the employees, such as cleaning up the oceans, building affordable housing, or eradicating disease. Often it's just a handful of employees who, taking small steps, gain buy-in from their coworkers and champion these ideas with senior management. For many, knowing they are helping others brings more joy than any company outing or party.
All around us are people doing something to make a difference: they may be getting groceries for elderly neighbors, tutoring or mentoring kids, or cleaning up a park so that the beauty of nature can be enjoyed by everyone. Along the way these people are demonstrating that a better world is possible, and that it is in everyone's power to help reach that goal. Their small steps, when added to the steps of many others, can change the course of what feels like a downward spiral.
The power to effect change is in us, especially when we view ourselves as members of a larger community. Today's challenges are daunting and by embracing what is possible we won't feel discouraged. It begins with small steps.