Defining your personal roadmap
Having greater success at work can come from gaining clarity about what matters, developing new skills, defining your skills, passions, and best fit for engaging work, and creating a plan to reach your goals.  A coach helps you define your personal roadmap and provides skills and exercises to help you achieve success.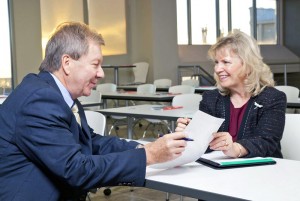 Great leadership doesn't happen by accident, but rather by thoughtful and intentional assessment and improvement.  A typical coaching engagement begins with defining goals and conducting an assessment to identify strengths and gaps.  We believe a focus on strengths is important for two reasons.  When a person is aware of his/her strengths it puts the person in a better position to choose activities that play to those strengths and leverage them.  Secondly, when a person realizes that his/her strengths are unique, the person doesn't take for granted that others will have that skill.
Assessments can help a person determine work style preferences, unique skills, leadership competencies, and how others perceive them.  In conducting 360-degree interviews with individuals our client interacts with, we also help those individuals gain a greater appreciation for how best to work with our client and how to provide more feedback to our client.
Following the assessments, we validate or redefine the coaching goals and begin working toward them.  Coaching conversations allow the client to raise issues for improvement and strategize how to handle situations better.  To build skills, we call on tested and proven templates, tools and techniques. For example, we may role-play conversations to help our client prepare for them. If our client needs to develop stronger executive presence or presentation skills, we use video as a tool to enhance learning through immediate feedback.
After 3 to 4 months we assess our client's progress and if goals are reached, either close the engagement or set new goals.
Why would you want a coach:
Clarify your brand and build on it
Get a promotion
Transition to a new job or position
Get clarity on what matters
Be more intentional about your leadership style and goals