For many clients, networking was not something they especially enjoyed doing, but they found natural opportunities to connect with people in person. Now that COVID has forced networking into the virtual world, they're stumped as to how to go about it. Turns out, the way to approach networking virtually is not that much different than IRL (in real life).
The first step is to decide why you want to network. Being clear on your purpose makes the approach easier. For example, suppose you want to build a network of people in your company to advise you on ways to get buy-in for new projects. You'd identify people who are good at getting support for new projects and perhaps people whose support you're likely to need. Then send a short email explaining what you want from them and why you are seeking their help. Offer to set up a 15- to 20-minute phone or Zoom call at their convenience to discuss tips on obtaining buy-in.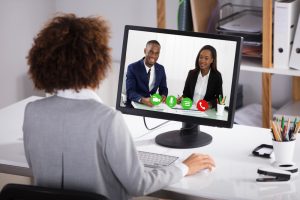 During your call, make the conversation focused unless they are more personal and chatty. Just like with in-person meetings, take a cue from the other person as to how informal or business-like the conversation should be. Being respectful of the other person's time will mean they'll probably be willing to accept future requests for their input. After the call, send a short follow-up email thanking them for their time and noting what you took from their advice. Ask what you can do to help them. Showing a desire to make the help mutual can deepen the connection.
Maybe you are job hunting. Again be clear on what you want from the other person. Just like in sales, networking is easier with a warm introduction instead of a cold call. Once you've identified people who could assist your search, look for them on LinkedIn and note connections you have in common. Reach out to your mutual connections and ask them to share some background on the people you want to meet. Listen for areas of commonality where you can start the conversation. If your connection agrees to facilitate introductions, provide a few sentences about yourself so they set you up for success. The more you can do to make it easy, the more likely you will get the introduction.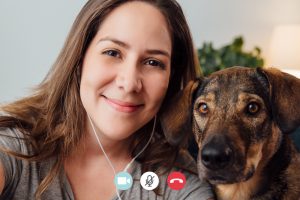 One of the easiest ways to network is with a group of people who share a common goal or issue. Joining an affinity group like Women in Technology, LGBTQ network or shared interest groups focused on things like games, books or movies provides a purpose for networking and makes interactions feel less transactional. These groups continue to function in virtual meetings and online platforms like Facebook; Meetup.com can help you find groups and events in your area focused on everything from health and wellness to pets and science fiction.
When you meet contacts using Zoom or Skype, take note of what's behind them – art, books, photographs, trophies, children, pets. Many people make a point of arranging what's visible when their camera is on; these elements signal what they care about and provide a possible bridge to a more personal conversation. And don't worry if your child or pet pops up on screen. Their chance appearances humanize our interactions and bring us closer as we work remotely.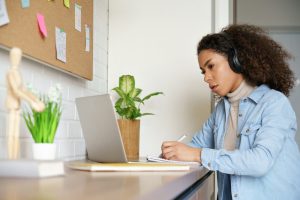 Just like in-person networking, you should keep notes on who you've met, what you talked about, and when you want to contact the person again. Relationships need to be nurtured and kept "warm." If you see articles or books that might be of interest to the other person, send them a link or an excerpt, but don't overwhelm them. And if someone served as a go-between for your networking connection, be sure to thank them and look for ways to strengthen their relationship with the person you were referred to.
Admittedly, virtual networking requires more intentionality and thought than traditional networking. But keep in mind that many of us miss the pre-pandemic connections that were so easy and natural. In reaching out you may find people who are more eager than ever to connect with others. With a little forethought and planning your virtual network can flourish.
Tips from Veterans of Virtual Networking
Clients who've found success networking virtually offer the following suggestions:
For initial contacts, phone calls generally are preferable to Zoom or Skype calls.
Instead of asking, "When can I call you?" suggest a couple dates and times for a proposed call but indicate your desire to accommodate the contact's schedule.
Stick to a time limit for your call. It shows you are respectful of your contact's time and implies that you are a busy professional with your own commitments.
Indicate that you regard networking to be a two-way street by asking, "Is there anything I can do for you?" Express openness to talking to anyone the contact knows who might be interested in your background. Most contacts will decline, but those who take you up on the offer become important connectors to a wider network.
Be diligent and open to possibilities but manage your expectations. You may need to reach out to five or ten people in an organization to get one helpful contact. And a person who doesn't seem to be in a position to help may turn out to be a valuable resource.
Don't be shy. Effective networking requires confidence and genuine interest in your contacts. Banish the voice in your head that says no one will want to talk with you. Many people are flattered by the attention.
Include a call to action. Ask if your contact would be willing to make an employee referral for a specific position or introduce you to a specific person you want to reach.
Don't be discouraged if contacts fail to follow through. Some may think they're sparing your feelings by leaving you hanging instead of turning you down outright. Send one follow-up reminder, but don't hound them.
Go for the long game. Your contact may not be able to help you now or may not feel comfortable providing introductions without further developing the relationship. Indicate your interest in maintaining contact. If appropriate you could occasionally forward relevant articles or industry insider news. Just don't swamp their inbox.
Assess your outreach. What's working and what could you have done differently if your efforts were unsuccessful?