The Learning Advantage, Inc. provides certified coaching, leadership and organizational development to medium to large-size corporations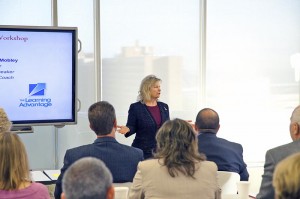 The Learning Advantage, Inc. is a small, woman-owned company that has provided coaching services, organization development, leadership development and training to corporations, associations, and government organizations since 1992. Since that time, we have served over 80 medium to large-size organizations employing a cadre of highly skilled certified coaches and trainers as subcontractors for various projects. The founder, Sandra Mobley, and her partners, Margaret Echols and Stephanie Katz, have each worked in the coaching, organization development and training fields for over twenty-five years. Each of us has been providing executive coaching for over 20 years. All of us served as senior leaders in large organizations and understand the complexity of executive roles.
Over 80% of our coaches are certified by the International Coach Federation, with most at the master coach level. Certification requires extensive training, coaching skill demonstration, and completion of over 2,500 hours of paid coaching. Ms. Mobley has coached over 2,000 executives and teams. The majority of her coaching is with senior managers and executives.
The Learning Advantage, Inc. provides turn-key leadership development including organizational and employee assessments, leadership development workshops, team development, leadership and executive coaching, and group coaching. We have long and positive relationships with companies where we have provided executive coaching services, including Booz Allen Hamilton, Capital One, Fannie Mae, AARP, Ernst & Young, and EMMES.
Founder of The Learning Advantage, Inc., Sandra Mobley
Sandra Mobley has also authored the book Juicy Work and is a keynote speaker on topics ranging from leadership development to career and team management and goal development.