Whether you're actively cultivating it or not, you have a personal brand. You and your work create an impression that colleagues and clients factor in to how they interact with you. If you are unaware of how you are perceived, ask colleagues to describe your brand. Would they offer words like trustworthy, creative, funny or positive? Might they also mention a tendency to procrastinate, argue or promote unrealistic expectations?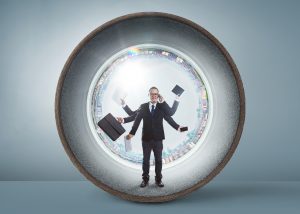 The less well known you are, the more first impressions and perceptions create your brand. You may be a brilliant analyst, but if you're meeting with people who don't know your work and you keep them waiting, their impression may be that you are overextended or forgetful at best, or arrogant and inconsiderate at worse.
When those same people get to know you better, they may be able to put their first impressions into context: you tend to be late to meetings because you're conscientious, working right up to, and often beyond, the last minute to address a customer's concerns. They can put your behavior into context because they have a full picture of you—your values, priorities, character—and your work product.
But why wait for others to define—rightly or wrongly—your brand? Taking the time to define your best brand and proactively advance it can pay off in ways you may never even realize.
How to build your best brand
Think about what a brand is intended to do. Companies with strong brands, such as Apple, Lancome, Mercedes and McDonald's, promote specific characteristics that their target customers appreciate, be it sophisticated style, low cost, mainstream popularity or advanced engineering. Customers' expectations are shaped by the brand. Likewise, you want your brand to help people know what they can expect from you.
Define key strengths
Developing a personal brand statement is helpful in figuring out what you want to be "famous" for. Begin by taking an honest inventory of your positive attributes and skills as well as any negative elements. You'll want to come up with an action plan for eliminating those negatives before they undermine your brand.
Which strengths are unique?
When identifying your skills and competencies, remember that we all have many gifts but when it comes to branding, a lengthy list isn't very helpful. You want to identify skills and qualities that are distinctive, that differentiate you from others and that are valued by others. Your encyclopedic knowledge of the history of duckpin bowling might be distinctive, but it probably won't be valued by colleagues and clients who are more interested in your technical skills or management style.
Identify experiences
Next, review the companies or departments where you've worked to identify your environments of success. Being a product manager at Microsoft says a lot about the kinds of companies and products you are comfortable dealing with. If most of your experience is with just one company, consider the depth and breadth of your experience there, especially specific projects you undertook, such as a new product launch or a targeted marketing campaign. Did these projects often involve special challenges, such as limited budgets, short timeframes or reduced staffing? The ability to thrive in that kind of environment may be an important aspect of your brand.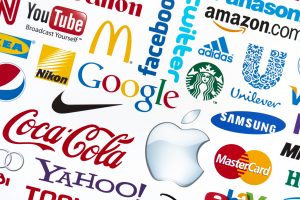 Describe impact
Finally, assess how your skills have made a difference for your companies and clients. You may have an IQ of 230, but if you haven't accomplished anything of value, it may be a liability ("If you're so smart, why haven't you . . . ?"). Think in terms of value added, such as improved productivity, reduced costs, increased profit, lower attrition, higher customer and employee satisfaction, etc. And do a before-and-after comparison, noting for example, that when you took over sales for the x product the company was selling about 200 units a month. Six months later, sales increased to 800 a month and by the end of the year, sales were close to 2,000 a month. The results you achieved in a role can be more compelling than a list of the role's responsibilities.
What is your essence?
Once you have a comprehensive view of who you are, what you do well and what sets you apart, summarize it in two to three sentences. That statement becomes the essence of your brand, and everything you do flows from it.
Whether you're talking to leaders in your organization, networking, conducting a job search or posting a profile on LinkedIn, it is important to project and reinforce your brand with every interaction and every element that represents you. Look for incongruities in your words, actions and work products. Are you undermining your commitment to customer satisfaction by complaining about how irritating customers can be? Do you tout your ability to work collaboratively but hog all the time at team meetings? Do your PowerPoint slides convey a coherent business strategy or resemble a ransom note?
Promote your brand
Once you are comfortable with your personal brand, you'll want to promote it, especially in the digital world. Make sure your professional LinkedIn profile and anything you post to the site align with your brand image. You may want to become an active participant in online forums related to your industry or a regular commenter on business news sites. Consider live Tweeting at an industry conference to tell your followers about the latest trends and case studies. You might even want to establish your own website and blog. Just be sure to update it frequently with fresh content. A blog that hasn't shown activity for months indicates you have no follow-through [or worse that you have died].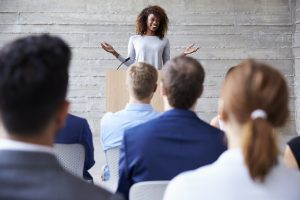 In the real world, you can promote your brand by participating in conferences, whether as a presenter, exhibiter or an audience member. Speeches, books, newsletters and magazine articles are all traditional ways to get your ideas and reputation in front of people. They require a high degree of commitment, so be sure you are willing to devote the time.
One caution: if you are employed, your company may have policies about how you may represent yourself to the real and virtual public. If you cite your current employer, you may need to include boilerplate noting that your views do not necessarily reflect the views of the company.
Finally, just like commercial brands, your personal brand may need to be revised. Revisit your brand statement from time to time to be sure it still represents you. You may be surprised how you have evolved.