Keynotes & Workshops
The following is an overview of keynote speaking topics and workshops from Sandy Mobley and the team at The Learning Advantage. To receive the informational kit on Sandy's keynote speaking, please call 703-992-8000 or email:Info@learningadvantageinc.com.
Sandy provides half-day and full-day forums, luncheon and dinner themes plus customized workshops addressing specific challenges.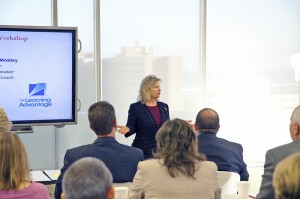 Keynote Presentations
Emotional Intelligence: The difference that makes a difference
Increasing Change-Ability
Leading Change
Leadership Presence
Love and the Bottom Line
Saying 'No' and Keeping Your Job
Taking Control of Your Career (Juicy Work)
Development Programs and Workshops
Career Management
Brand You (What do you want to be known for?)
Interviewing Skills
Leadership/Executive Presence
Networking
Political Savvy
Team Management
Team facilitation and team building – these sessions are offered for intact teams to aid in reaching their goals
Workshops:
Challenging Conversations
Collaboration skills
Communication skills
Decision-Making
Recognizing and harnessing differences
Workstyle preferences
Using strengths
Multigenerational differences
Gender differences
Vision, Mission, and Goal development
Leadership Development
High potential cohort programs
Cross-functional leadership development programs
Workshops:
Challenging Conversations
Collaboration skills
Communication skills
Decision-Making
Delegation skills
Increasing Emotional Intelligence
Increasing Change-Ability
Influence Skills
Leading Change
Leader as Coach
Negotiation skills
Presentation skills
Providing motivating feedback
Recognizing and harnessing differences
Workstyle preferences
Using strengths
Multigenerational differences
Gender differences
Resolving Conflict
Risk-taking
Strategic planning
Time and stress management
Vision, Mission, and Goal development